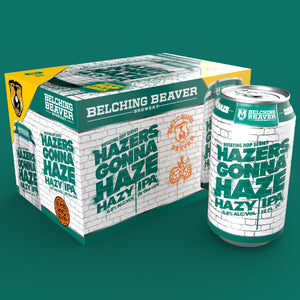 Hazers Gonna Haze 6-Pack
Sale price Price $11.99 Regular price
 We developed this beer in the early days of hazy IPAs, a time when some people did not recognize Hazy IPA as a real style of beer. Here at the brewery not only were we loving them, but our customers were too! The name is a play on "Haters Gonna Hate," because people criticizing this new craft style were mad because people actually liked it, and eventually Hazy IPA was recognized by the Beer Judge Certification Program.  (6.6% A.B.V.) 12oz 6-pack.
//Delivery to California residents ONLY
//21+ Adult Signature Required
//Total price includes residential & adult signature fees
//No Delivery to Intoxicated Persons.